What is an Acupressure Yoga Mat?
When you're feeling stressed after a day at work, what's better than a massage? If we all had regular massages, its gets pretty expensive right?
For a while now, everyone's been buzzing about the Shakti Mat, also known as the Indian Bed of Nails.  The massage mat is covered with ABS [Acrylonitrile butadiene styrene] plastic lotus shaped spikes.  It is inspired by ancient Indian healing traditions that is believed to have been around for thousands of years.  The spikes that have been strategically placed on the mat and pillow are harmless to the skin, and will provide you with healing benefits.
Our massage mat nails are lotus shaped and much harder than the normal spikes found on some of these Mats.  The lotus shaped spikes provide a deep tissue massage.  There are 6,210 pressure points on the Mat and 1,782 points on the neck pillow.  Mat length is 25.98" width 15.75".
The practice of using a Yoga Acupressure Massage Mat brings with it emotional and physical benefits too numerous to mention.
You will find in numerous articles and reviews that this Mat is highly recommended for chronic pain, improved blood circulation, increasing energy levels, relaxation and much more.
HOW TO USE THE MAT
It's best not to start off by lying the Mat on the floor.  For first time users, place the mat on your bed, sofa or chair and cover it with a soft towel or tshirt.  The material between your skin and the Mat must be thin.  Start with 10-15 minutes until you get used to the spikes.  When you next use the Mat you can build up to 20 to 30 minutes. The Mat may be used as often as you need – preferably two to three times a week.
The plastic points are sharp so please ensure you take extra care when handling the mat to avoid cutting your hands.
You can use it on the bed, on the floor, sitting on a chair.  You can sit or lay on it in any position you feel comfortable.  As you get used to the sensation you can stand on the mat or lie on your stomach.  It truly has an amazing calming effect on the body.
How does it work?
The truth of the matter is the Acupressure Yoga mat is the ultimate tool for self-care.  It works in a similar way as acupuncture by having your body release endorphins, which have the ability to produce analgesia and a feeling of well-being. Many people have different reactions to this, which may include: happiness, clearer mind, more energy, and relaxation.
Some users say that the spikes hurt.  If this is the case and you keep at it, I don't think you'll be disappointed.
Oh and I forgot to mention, the Massage Mat is pure awesomeness after a workout, and used widely by top athletes for its ability to support performance and recovery.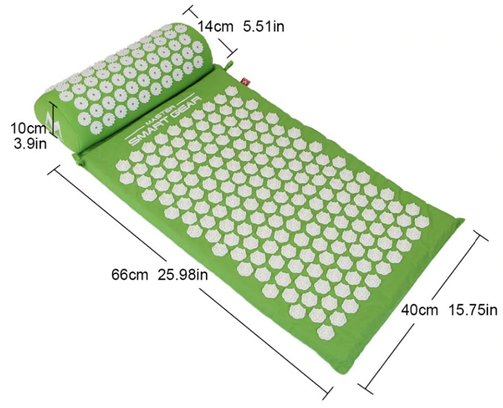 To wash the mat, remove the foam padding and handwash it in lukewarm water using a mild detergent.  Please do not use a washing machine or clothes dryer as the pressure points may get damaged.  The mat should be rinsed under cold water and drip dried.  Alternatively, it may be laid out to dry on a clean towel, not in direct sunlight.
The real bonus is when you purchase the Massage Mat, you get the bolster pillow and a carry bag as well, not just the Mat!
Where to Purchase the Mat
Please visit https://yogaclickshop.com
Important NOTE: The Massage Mat is not recommended for people with medical conditions such as pregnancy or heart disease conditions.  GP consultation and authorisation must be obtained prior to using the Mat.